Last year, the industrial production value of this smallest province rose to the top of the country. It is no exaggeration to say Bac Ninh as an economic "giant" of Vietnam.
However, after many years of miraculous development, Bac Ninh's economy is growing slowly, and has to compete greatly in attracting investment with other localities. The problem of overcoming oneself, or how the "giant" can run faster is the problem of Bac Ninh today.
01 - GOING TO THE TOP
On a cold late winter afternoon, Mrs. Do Thi Muon (Yen Phong district, Bac Ninh province) tried to re-imagine the vast field between the two villages of Man Xa and Tran Xa. That field is now the land of Yen Phong industrial park - the industrial park attracting the largest amount of FDI in Vietnam.
Amidst factories, heavy traffic, highways, spacious parking lots and rows of workers' houses, Mrs. Muon was confused when asked where the old 7-acre field was.
On the fields between Man and Tran villages, now is the place where Samsung Bac Ninh complex is located, one of the largest consumer electronics production bases in the world. Samsung's latest, state-of-the-art phones are made here and delivered to hundreds of millions of customers worldwide. Samsung invested nearly 20 billion USD in Vietnam, of which Bac Ninh alone attracted 9.3 billion USD.
When asked why Samsung chose Bac Ninh as a strategic investment, Mr. Choi Joo Ho, General Director of Samsung Vietnam, emphasized the special geographical location factor. "One of the special reasons is that Bac Ninh's geographical location is very suitable for large projects. From Bac Ninh, it is very easy to transport goods and products of Samsung Vietnam to the global market", Mr. Choi told Zing.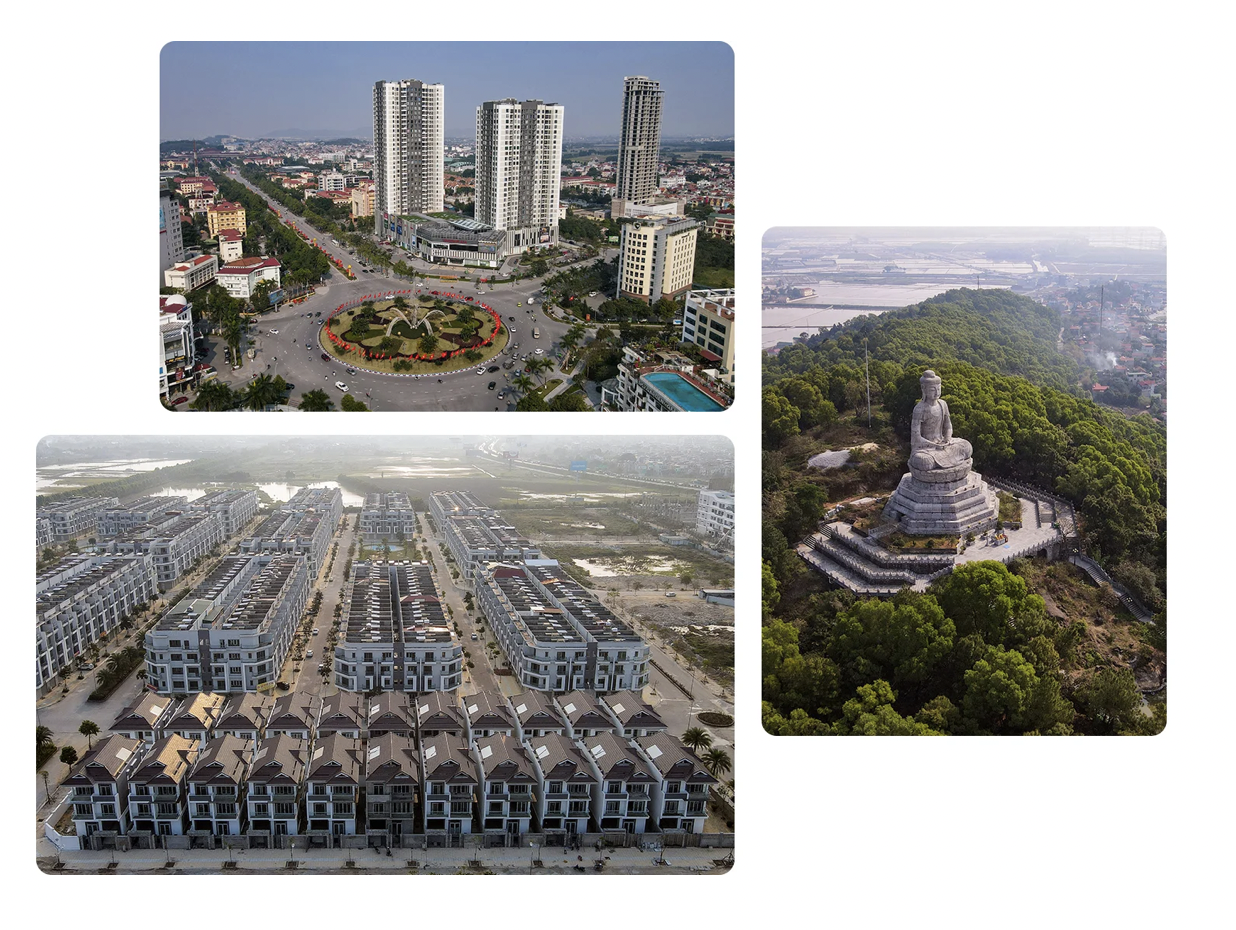 Bac Ninh has a strategic geographical position, almost in the center of the North, with vital waterways and land transport routes to other economic regions. Bac Ninh is only about 30-60 minutes from Hanoi, less than an hour from Noi Bai airport. This province has National Highway 1A running through as the "backbone" axis going straight to the northern border with China.
Bac Ninh can also easily connect the northern midland and mountainous provinces such as Thai Nguyen, Phu Tho, Vinh Phuc ... or connect to the seaports in the east in Quang Ninh and Hai Phong.
Taking advantage of that, right after re-establishing the province in 1997, Bac Ninh was one of the localities in the North leading in industrial development. The rice fields were quickly converted into industrial zones. The first industrial park, Tien Son, was established in Tien Du district, then Que Vo, Yen Phong, Gia Binh... Those industrial parks quickly caught the eye of many big investors in the world. .
Large corporations such as Samsung, Canon, Foxconn, Microsoft, Pepsico ... have set up factories and poured billions of dollars in Bac Ninh. By the end of 2021, nearly 22 billion USD of FDI registered to invest in this province with nearly 2,000 projects.
Despite the Covid-19 epidemic, the industrial production value in 2021 reached nearly VND 1.5 million billion, more than 1,000 times higher than in 1997 and rose to the first place in the country, surpassing Ho Chi Minh City, Binh Duong, and Dong Nai. . In which, the proportion of the electronics industry has increased to 79.3%.
Mr. Choi Joo Ho believes that geographical location is only part of the explanation for the success of Bac Ninh. From the perspective of an investor, he said that businesses must evaluate many other favorable factors in terms of politics, economy, and people. And Bac Ninh has met all those requirements.
General Director of Samsung Vietnam highly appreciated that during the investment process in Bac Ninh, the province continuously improved technical and social infrastructure, enhanced competitiveness, and met the requirements of businesses. and the people.
"This is important because manufacturing cannot grow if the infrastructure is weak and cannot meet the needs of domestic and foreign investors," he said.
At the beginning of 2022, when he visited and wished Bac Ninh New Year, General Secretary Nguyen Phu Trong paid a lot of compliments to the smallest province in Vietnam after 25 years of re-establishment. "Bac Ninh has made strong and comprehensive breakthroughs in all fields. Up to now, the province has basically become an industrial province in the direction of modernity", he emphasized.
02 - PROBLEM ''' OVER MYSELF '''
Thanks to the clear orientation of attracting and strongly developing industry, the economy has grown continuously by double digits, among the highest in Vietnam. In 20 years (1997-2016), the average GRDP increased by 15.1%/year. By 2021, the scale of GRDP has increased to VND 230,000 billion, 113 times higher than in 1997. This province ranks 8th in size out of 63 provinces. While the area of ​​Bac Ninh is the smallest, the population is only about 1.4 million people
The average income of Bac Ninh people has exceeded 6,700 USD, ranking fourth in the country. This level is equivalent to the group of upper middle-income countries such as Thailand, Peru, South Africa, Colombia... It can be said, if xIn terms of industrial scale, GRDP scale, per capita income, Bac Ninh is like a "giant" of Vietnam's economy.
However, in recent years, the "giant" is slowing down and developing unevenly. The "giant" Bac Ninh no longer walks as fast as before.
Since 2012, growth has slowed. That year, GRDP increased by more than 12%, then in 2013 to 10.2%, then in 2014 unexpectedly down to 0.2%. Similarly, in 2015-2016, it improved to about 8-9%, even 2017 jumped to nearly 19%, but in 2018 it decreased to 10.6%, in 2019 and 2020 it decreased to only about 1%. In 2021, the province's economy prospered despite the Covid-19 epidemic, but only reached 6.9%.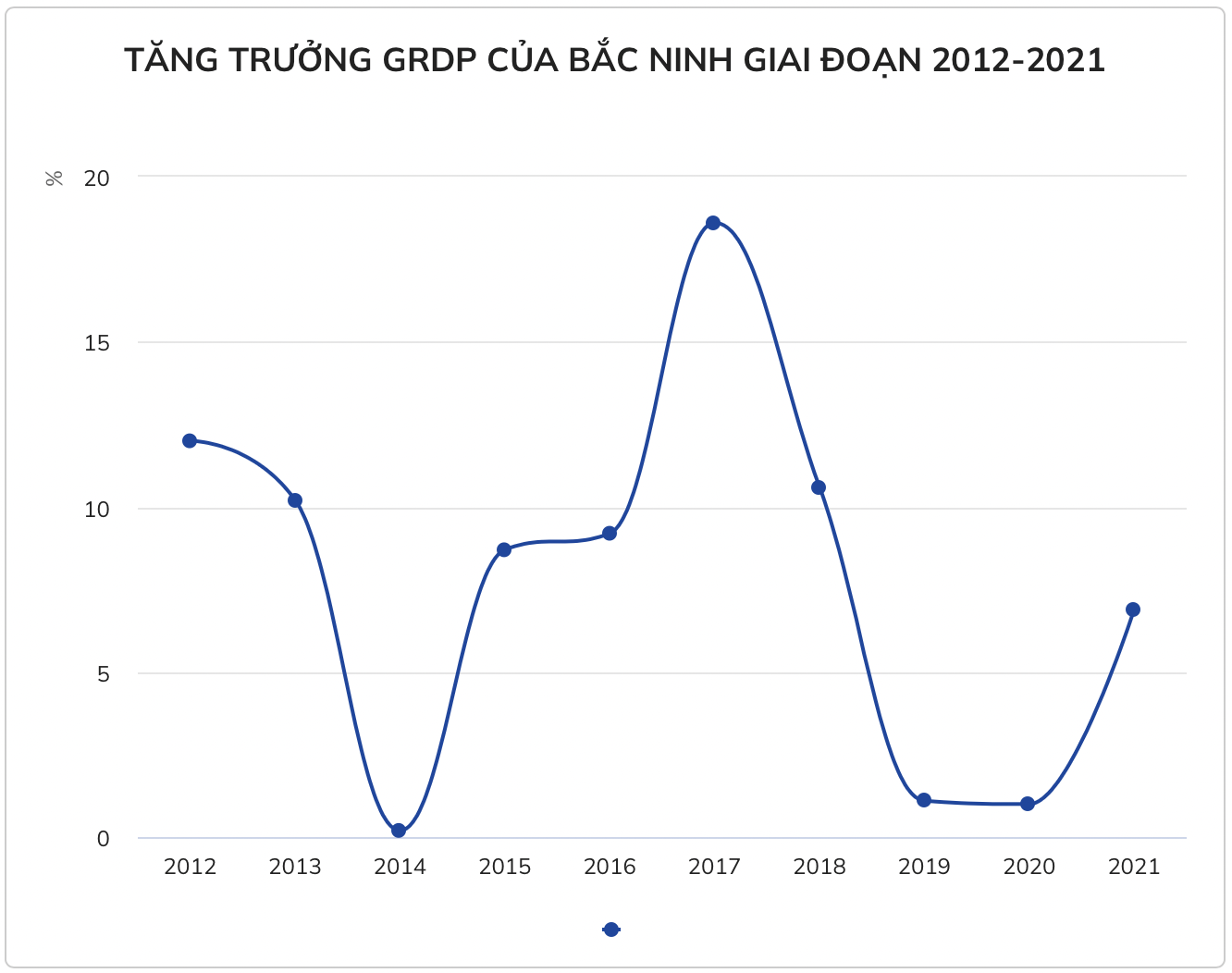 Some experts believe that Bac Ninh's economy has reached a high scale, so it is not easy to maintain double-digit growth. Meanwhile, growth depends mainly on industry (approximately 80%).
Industrial growth depends on FDI enterprises and on world market signals. The fact that enterprises expand production can make a big contribution to growth, conversely, if production is narrowed, it will have a significant impact.
For example, in 2014, when Samsung had to globally recall the Galaxy Note 7 product, with a loss of tens of billions of dollars, Bac Ninh's GRDP that year only grew by 0.2%.
Bac Ninh today still faces many other challenges. It is limited in terms of land fund and development space; environmental pollution in craft villages and small industrial clusters; lack of labor, especially high-skilled workers; social security problem for hundreds of thousands of workers in other localities coming to Bac Ninh to work; agricultural development problem; building tourism products to take advantage of the richness of culture... National Assembly member Nguyen Nhu So (Bac Ninh delegation) said that the current biggest bottleneck is infrastructure, especially transport infrastructure. After many years, the main development axes of Bac Ninh mainly follow national roads such as national highway 1A, national highways 18, 17, 38... These roads are almost overloaded and crowded with factories and factories. surrounding residential area.
In Bac Ninh, there are not many intra-provincial roads of sufficient range, connecting main roads to industrial parks, districts, communes... Bac Ninh is also the province with the highest density of rivers in the North, but there are not many. Large bridge connecting with surrounding.
"If traffic is not developed, it will greatly inhibit the development of Bac Ninh compared to other localities," said Mr. So, and also warned of great competition from surrounding localities such as Bac Giang and Thai Nguyen. , Hung Yen, Quang Ninh…
03 - HIGH-TECH INDUSTRIAL CAPITAL
Restructuring the economy, creating new growth engines, and becoming less dependent on FDI is what the "giant" Bac Ninh is aiming for at the moment. In the next 5 years, Bac Ninh sets an average growth target of 7-8%/year, which means it has to go faster than 5 years ago (6.6%). As the scale of GRDP gets bigger, the problem of overcoming oneself will be the problem of Bac Ninh today.
Standing Vice Chairman of Bac Ninh Provincial People's Committee Vuong Quoc Tuan emphasized that developing to a higher level will be a problem that Bac Ninh will drastically implement in the coming time. In which, one of the priorities is to develop infrastructure, especially transport infrastructure, to help expand development space and make full use of current advantages.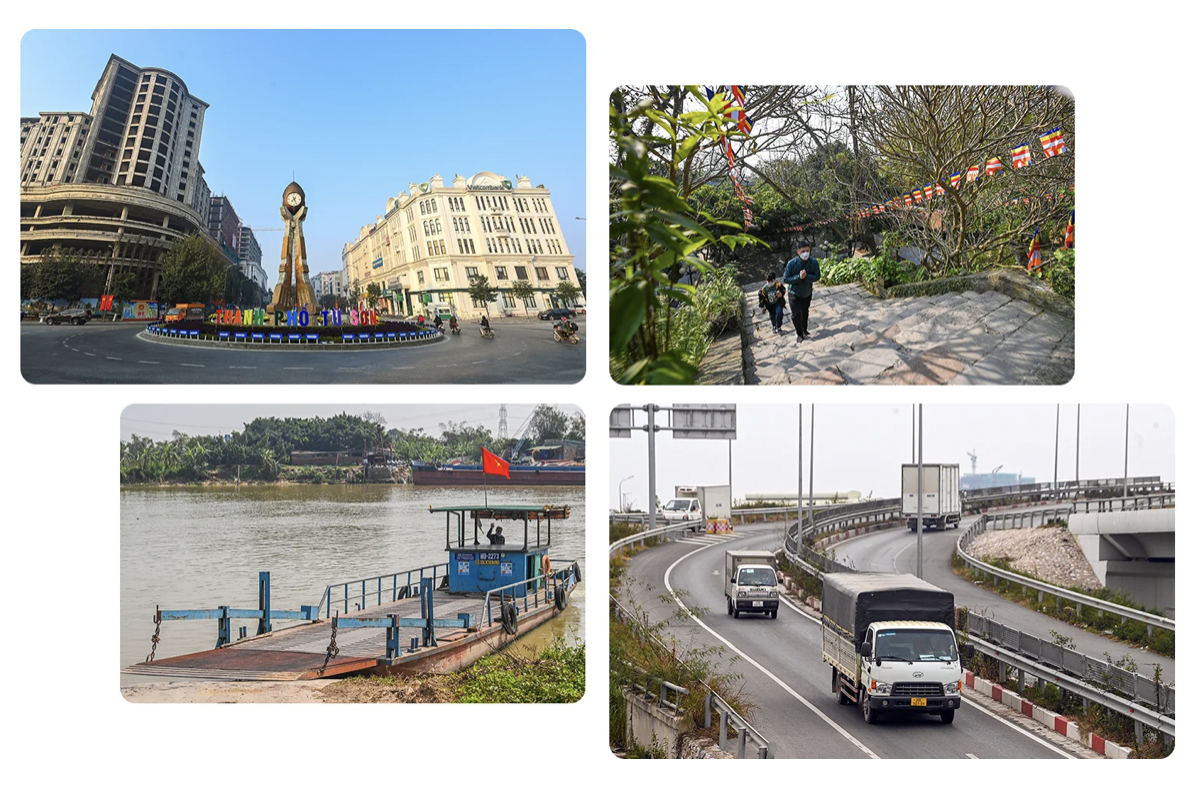 He said that in the coming time, the province has a very clear orientation to develop high technology, to catch up with the trend of the world, that is, to create a typical technology industry center, to develop into an industrial capital. high-tech industry in Vietnam and in the world. Priority industries will be artificial intelligence, semiconductor industry, even aviation industry, aviation industry auxiliary ...
"We have the view that Bac Ninh is closer to Hanoi than Hanoi is near Bac Ninh. The proximity to Noi Bai airport is a great advantage for the development of aviation-related industries," shared Mr. Tuan. One of the important upcoming directions is also emphasized is the development of the commercial and service system and the urban area. Along with industrial development, Bac Ninh will create a smart and modern urban ecosystem in the capital area. Trade in services is also interested in economic restructuring, moving to a higher level of development.
Standing Vice Chairman of Bac Ninh province also emphasized promoting the advantage of being a locality with cultural traditions, rich cultural relics, national treasures and heritage recognized by UNESCO. The province will promote into a cultural area, combined with economic development, creating a complete ecosystem.
"Bac Ninh's goal will be for the people to enjoy the fruits of development together, creating equal development, green and clean environment," he shared.

By: Zing